PSS Shaft Seal
The seal is created by contact of the carbon face against the rotating stainless steel rotor. A hydrodynamic bead of water between the carbon seal and rotor provides lubrication. The carbon seal and bellows assembly is fitted to the stern tube by twin stainless hose clamps. Contact with the rotor is assisted by water pressure which helps to cool the assembly. Seal contact is unaffected by the engine laterally or fore of aft.
The PSS Shaft Seal uses the highest quality materials and manufacturing procedures to give drip free performance with zero wear to the propeller shaft and the capability of operating safely up to 500 F. They require no lubrication other than the water they are working in. A fitting is provided on carbon flange to accept a feed from the engine's water exhaust to assist cooling.
Techical Specifications
High Density Carbon Graphite Flange. Once installed and operational the carbon/graphite face will polish the stainless steel rotor during the initial first few minutes of operation ensuring a perfect fit thus eliminating any drips or spray. The ultra dense carbon/graphite composite has a maximum operating temperature of 500 F, guarding against failure by over heating as can occur on rubber and plastic based seals.
Stainless Steel Rotor
The one-piece, 316 grade stainless steel rotor is secured to the propeller shaft with double set screws. The twin nitrile 'O' rings are stationary and do not wear.
Reinforced Bellows
The heavy reinforced nitrile bellows are resistant to petroleum based products and retain their preset dimensions. They provide the best combination of durability, strength and elasticity. Due to continued development by the manufacturers, rights are reserved to alter, modify or replace any specification or design feature without prior notice-check when ordering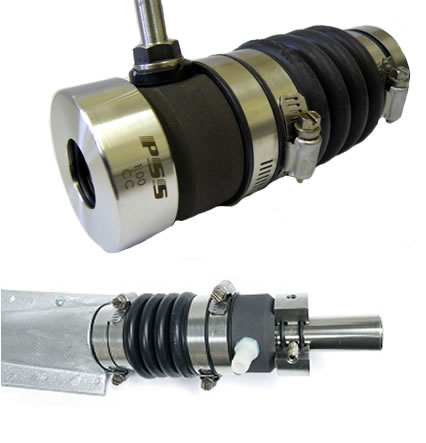 Features
Dripless Operation

Maintenance Free

Eliminates Shaft Wear

No Mess Or Corrosion

3 Year Guarantee

ABS Approved

Over 100,000 in successful operation

Suitable for leisure & commercial craft

Unaffected by engine movement or vibration

Manufactured in the USA

Metric & Imperial sizes for shafts from 20mm - 3/4 " to 100mm-4"

The carbon/graphite flanges & rotor should never need replacing under normal operating conditions
| Shaft Diameter | Stern Tube Diameters | Compressed Length |
| --- | --- | --- |
| 3/4, 7/8, 20mm, 22mm | 1¼, 1½, 1¾, 2,2¼ | HS 6 1/4" |
| 1, 1 1/8, 25mm, 28mm, 30mm | 1¼, 1½, 1¾, 2,2¼ | HS 6 1/4" |
| 1 1/4, 1 3/8, 32mm, 35mm | 1¾, 2,2¼, 2 ½ | HS 6 1/2" |
| 1 ½, 40mm | 2,2¼, 2 ½, 2 3/4, 3", 3 1/4", 3 1/2" | HS 8 ½" |
| 1 ¾, 45mm | 2¼ 2 ½, 2 ¾, 3, 3¼, 3½ | HS 8 ½" |
| 1 ¾, 45mm | 2¼ 2 ½, 2 ¾, 3, 3¼, 3½ | HS 8 ½" |
| 2", 50mm, 55mm | 2¼ 2 ½, 2 ¾, 3, 3¼, 3½ | HS 8 ½" |
| 2¼, 2 ½, 60mm 65mm | 3 ¼, 3 ½, 3 ¾, 4 | HS 8 ¾" |
| 2 ¾, 70mm | 4", 4 ¼, 4 ¾, 5" | HS 9 ½" |
| 3" 75mm. 80mm | 4", 4 ¼, 4 ¾, 5" | HS 9 ½" |
Catalogue & Advice Downloads